Pressure Washing is a great way to scratch off the signs of aging from your property. It can make your old home look new again.
As the state capital and the largest city in the state, we in Phoenix have to show the rest of the state how it's done! Spruce up those house walls, clear off that grime and build up on your sidewalk, and just enjoy the professional pressure washing services provided by Arizona Window Washers!

Pressure Washing professionals in Phoenix
Clear debris and mold or mildew to reveal limestone you haven't seen clean in years! Doing this is a great way to increase your home value and visual appeal of your home. Keeping limestone clean will only benefit you!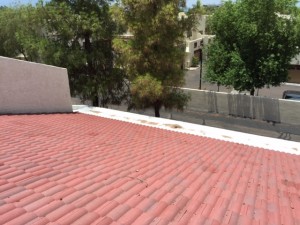 Our pressure washing surfaces will not cause any damage to your property! It can reveal underlying damage you might not have known you had (most of which is visible in the washing process, but cleaning can expose the true culprit). Cracks and holes, once properly cleaned, are easy to repair in most situations and our technicians will be able to spot problem areas you may need to address in the near future.
Pressure Washing can prevent you and your family from spending thousands of dollars on replacing surfaces, including:
Roof shingles
Wood decks/patios/porches
Concrete sidewalks/paths
Garage floors
Limestone
Brick
Side paneling
Wood siding
Shutters
And more!
Pressure Washing Service
Before you rip up your garage floor or try to repaint or re-seal your porches or decks, try a pressure washing service! If you still need some resurfacing services it'll take much better on a freshly cleaned slate!
Keep the elements at bay and prevent rotting, premature aging, decay, plants seeping into cracks, mildew, algae, and mold that can cause permanent damage to the exterior of your home to save a fortune on home repairs to keep your home value up but your expenses down!
Why hire Arizona Window Washers instead of renting a pressure washing machine? Stay out of the hot Phoenix sun this summer and save your energy for other activities. Make sure all chemicals are mixed properly, machines are used with the right techniques and avoid the stress of shopping around for machines and cleaners!
If you skipped out on spring cleaning you can still catch up with some summer cleaning. Now you won't have to be embarrassed by your outdoor surfaces when you invite someone over for a cookout or some lemonade. Let the kids play in the yard without worrying about them slipping on algae or inhaling mold spores. Keep your home safe, healthy, and beautiful with a little help from your friends at Arizona Window Washers.