Commercial Window Cleaning Service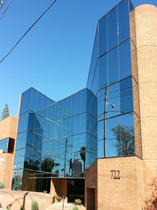 Arizona Window Washers is a full scale window cleaning company offering commercial window cleaning and window cleaning service for businesses in the Phoenix, AZ area. Our services are unique and tailored for owners, property managers, maintenance personnel, and anyone else trusted with the care and image of their facility. A commercial window cleaning maintenance schedule from Arizona Window Washers will help you maintain and protect a positive image of your company. Our window cleaning maintenance schedules will also help protect the investment of your property and save you money. We understand that most companies and businesses have a budget for their window cleaning services and we will work within your budget without sacrificing quality and service. Our professional, highly trained, and invested in technicians have several years experience in commercial window cleaning.
We Offer Commercial Window Cleaning for:
Office Buildings
Medical Facilities
Senior Living Facilities
Apartment Buildings
Shopping Plazas
Retail Stores
Restaurants
Commercial Property
Industrial Property
Post Construction
Hard Water Stain Removal From Sprinklers
We can only service mid-rise buildings up to four stories at this time.
Allow us to tailor a window cleaning maintenance schedule that meets your budget and expectations with the highest standards at our lowest price possible. Arizona Window Washers can accommodate the following schedules:
Daily
Weekly
Biweekly
Monthly
Bi-Monthly
Quarterly
We carry a high insurance and liability policy for commercial window cleaning.
Our quotes are free and detailed. Call us today for your all over home window cleaning services need.