We're right in the middle of summer. It's a great time to clean windows, patios, roofs, and more with our skilled technicians and competitive prices! If you haven't decided how you want to decorate your home for the coming months, begin with cleaner windows. The rest will come to you. That's why you have Arizona window washers.
Our services will save you time as well as save you the stress of purchasing or renting equipment and harsh chemicals. Everything we use will keep you and your loved ones safe and healthy.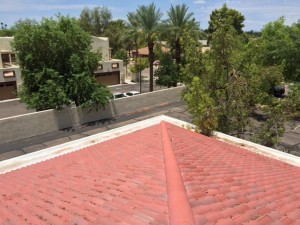 Sun City
Sun City is a lovely town with roughly 40,000 people, but few children but nearly half of the homes containing married couples. Temperatures in winter tend to average around 55 degrees and in summer, tend to hit the low 90-degree area with annual rainfall barely reaching 9 inches.
This city is often considered a retirement community (with the low numbers of households with children and the vast numbers of activity centers and clubs) but that doesn't mean it's boring or sad. This town is booming with happiness and activity. So, whether you live here now, are considering moving, or know someone in this lovely little town, consider the services of Arizona Window Washers to decrease the stress of climbing on ladders to clean out those pesky gutters! Our window cleaning solutions will keep your windows clean for months. Saving you time, money, and energy to join another club or take up a new hobby.
Surprise City
Surprise city jumped from a population of just under 31,000 to over 117,000 between 2000 and 2010! 21.5% of households contain children and nearly 70% contain married couples with the school district, Walmart, and the city providing the largest numbers of jobs. Temperatures in Surprise are very similar to that of Sun City with summers around 90 degrees and winter temperatures not going below 40, even at the minimum, and just over 9 inches of rain annually.
Try to keep a cleaner, healthier home for you and your family. Keep mold and mildew at bay with our pressure washing systems. Also, keep your gutters and roofs clear of damaging water and debris. Stop worrying about what window cleaning products to purchase when you can hire our wonderful professionals to clean them to a pristine shine guaranteed to last up to 6 months with minimal additional cleaning. With the time you save on cleaning, why not become more active in the community by using the City Calendar to keep up with City Council meetings or check out some of the hot spots such as libraries, regional parks, golf courses, and more.
Goodyear
After increasing in population by nearly 250% between 1999 and 2000, Goodyear, AZ is a great city in Maricopa County. As you might guess, it is named after the Goodyear Tire and Rubber Company and is home to the glorious Goodyear Ballpark and the Phoenix Goodyear Airport. From the city's website, residents can download the City of Goodyear Mobile App to help keep the amazing community running smoothly and keep up with events coming to town.
With winter temperatures ranging from the upper 30's to lower 50's, it's a great place to spend the holidays with family. Summers can get very hot, reaching over 90 degrees regularly. This holiday season, host the family dinners with all of the aunts, cousins, and grandparents, and take your guests to one of the county parks, museums, the Performing Arts Center, or the Wildlife World Zoo!
No matter what you're doing this season, don't let gross gutters or dirty windows get you down and spoil your fun! Hire Arizona Window Washers and we'll clean your deck, wash your windows, and remove the crud from your gutters so you don't have to lift a finger—just focus on decorating that tree and baking those cookies for Santa and let us do all the hard work. Keep us in mind this fall, too. Because another round of window washing might be in order to let all of that beautiful sunshine in that Goodyear get 300 days a year of!
Fountain Hills
Yet another fast-growing city in Arizona in Fountain Hills. It gets the name because of the infamous fountain. It is the world's fourth-largest fountain, built in 1970, spraying water for 15 minutes every hour between 9 am and 9 pm. Be sure to check out the "It's a Wonderful Life… in Fountain Hills" holiday celebration on December 6th and check out the city's website for other interesting events, public meetings, and more.
Fountain Hills has weather very much like other areas surrounding Phoenix, classifying it as having a "mild desert climate," so warm during summers and cool winters. The area also has fewer households with children than other areas.
For those households, consider using our cleaning services so you can relax in retirement, single-hood, or simply enjoy being married without children. Use the time you save by having us wash your windows to take your dogs to the off-leash dog park at Desert Vista Park, or take a hike.
Let us power wash your outer walls while you get ready to go out to the Botanical Garden. Have your patio professionally cleaned so you can host the backyard barbeque of your dreams! Living in such a beautiful place, it would be a waste to spend all of your time washing windows and cleaning gutters when you could be relaxing and enjoying this beautiful city. So go check out that fountain and call Arizona Window Washers to make your life so much easier.
Arizona Window Washers
Contact us today to schedule cleaning services. We'll do one simple service in a day or we can do multiple. If you want, we can clean your windows, gutters, roof, solar panels, and patio in one visit.
Just let us know ahead of time what services you desire. So we can work out the date/time as well as any possible discounts for bulk services. Never underestimate the power of a fresh power-washed home and sparkling windows. That rejuvenating feeling for your home also comes with greater durability when you get rid of dust, dirt, and grime.