We know it's been up in the low 100's temperature wise, so you may not be thinking of having your windows washed, your gutters cleaned, or your home power washed, but it might just be the best time to have these services done. If your children or grandchildren haven't gone back to school yet, it may be a great time to check out some sites, or at least have one last cookout or day at the park with the family before school starts back. We recommend using our services to keep the last of your summer stress free with useful cleaning services. If you get your windows professionally washed you can enjoy the sunlight through your beautiful windows while staying in your home with the fan or A/C on you.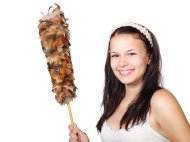 You can also enjoy a clean porch, patio, or deck while you cookout. You can tell everyone you didn't lift a finger to get your outer walls or your outside surfaces that clean. People will think you had some work done on your home, we'll have it looking so great.
We service the Phoenix and Chandler areas with all of our window washing and window cleaning services, but if you wish for us to provide your home with the same amazing and detail oriented care your friends or family in Phoenix and Chandler areas receive from us, give us a call and we'll see what we can do about scheduling a home visit.
Now that the home market is steadily improving, especially in higher income areas, it may be time to give your beautiful Chandler home a makeover. Don't waste money replacing windows and screens when you can hire the professionals to do it! Don't tear up your limestone or concrete walk-ways, just have them cleaned with a pressure washer. If you're looking to sell or rent out your house, our services can improve your asking price by larger numbers than you could imagine! If you're not looking to sell, keeping your windows, gutters, and walkways or driveways clean and like-new is a good way to improve your quality of life as well as the visual appeal of your neighborhood—and who doesn't want a beautiful neighborhood!

Tell your friends, tell your children, parents, and your coworkers about Arizona Window Washers. We may be able to offer discounts based on successful referrals as well as reviews written about us on popular sites like Yellow Pages, Yelp, and through our website directly! Call today to schedule a visit, and if this is your first time, let us know and we may be able to offer a one-time discount to new customers, depending on the services. We also offer package deals to keep your Chandler home looking its best.