Nestled eight miles from Downtown Phoenix, Laveen is a lovely urban village. Coming from Mormon cotton farmers, Laveen has experienced large amounts of residential growth. Now, the Arizona State Route 202 cuts through Laveen, which also brought improved retail and health care centers. October 2012 saw the Bougainvillea Golf Club changing management and becoming open to the public, pleasing many residents.
The entirety of Laveen is located in the Sonoran Desert. Meaning it faces an arid climate with temperatures in summer reaching 105 degrees on average and a winter high of 65 degrees. Heavy rainy seasons occur in spring and late summer, and periodically winter will bring snow to the Estrella Mountains nearby.
While you're visiting one of the golf courses, the Spurr Lounge, or the Whispering Tree Branch we're sure the last thing you want to be thinking about is getting your gutters cleaned. Or washing your windows or an all over home cleaning. While you're preparing Thanksgiving dinner this year you don't need to be thinking about how you're going to get the front porch or roof (or solar panels!) clean before company arrives. You also really don't need to be making cocktails for your adult guests at your friendly fall party to be ruined by guests noticing streaks on your windows.
Call Arizona Window Washers and we'll wash patios, limestone, windows, roofs, and more! Our window cleaning formula will keep your windows clean for up to 6 months. Meaning another cleaning will be due around the rainy season. So make sure to keep us in mind for your gutter clearing needs as well. You might need it during those heavy storms. So keep your gutters clear and clog-free while your windows are spotless so you can let in the sun on the warm days and keep out the rain in the monsoon season.
Mesa
The third-largest city in Arizona, Mesa is home to over 440,000 people and houses education facilities such as the Polytechnic Campus of Arizona State University. Over 33% of households contain children with an average household size of 2.68 people. Education and health systems provide the majority of the jobs, with City jobs and Walmart employment also providing large numbers of jobs.
Those living in or visiting Mesa can enjoy many cultural attractions such as HoHoKam Park, the Mesa Arts Center, Mesa Amphitheatre, public libraries, archeological sites, and many museums. The small families present (and those couples without children, even) can spend many hours of their spare time expanding their minds. And learning about the history of this great city.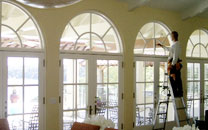 While you're taking your child to museums or enjoying some golf at the Country Club Drive, be at ease that when you arrive home, you won't have to think about washing your windows or power washing the sides of your home because if you hire us, the jobs will be done correctly the first time, in a timely fashion so you can focus on enjoying your time this holiday season.
Bring the In-Laws to town and impress them with the impeccable cleanliness of your patio, roof, gutters, and more after using our services. Focus on the children enjoying the fall instead of a home cleaning.
Just call Arizona Window Washers for your all over home cleaning services needs.