Now that Christmas is over, it's time to start thinking about your New Year's Resolutions! Why not resolve to have a cleaner home? With Arizona Window Washers, that can be one resolution you actually accomplish! And we can get it done before you finish putting up your Christmas decorations! We'll clean your windows, gutters, and siding. We'll wash your patios, brick, and solar panels! Improve the functionality of your home while removing allergens and making it look amazing.
Hello, San Tan Valley! We know a large portion of your residents are commuters, so why spend time cleaning your windows and gutters if you're not home much? Save yourself the trouble and let us assist you! Stay cozy indoors while it's between 30 degrees and 70 degrees over the next few days and let us wash your windows so you can relax and look outside to your beautiful neighborhood. The focus of San Tan Valley on family, safety, health, and education means it would be foolish to not have our amazing, and local, company provide our services. Our technicians are professional, kind, safe, and friendly—leaving you in safe hands at every visit. The time you save cleaning your patio can be used hiking, appreciating the sunset, and just enjoying life, so call today to book an all-over home cleaning!
Phoenix adjacent, Scottsdale is described by some as reminiscent of Miami's South Beach with party locations and plenty of hotels. Bring in family to ring in the New Year or book a party at a glorious hotel and let loose. Don't worry about cleaning your home (for hosting parties, especially) by hiring our cleaners to wash your windows or to clear out your gutters. Don't spend time worrying if your roof and gutters are clear, spend that time with friends and family instead!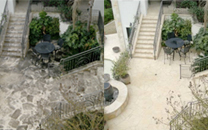 With winters reaching as low as 38 degrees and summers as high as 105, the weather in Scottsdale is cooler than other areas, meaning less sweat and more fun! Bundle up for winter, but let loose in the summer! With only 20% of homes containing children, it's time to have fun! Those of you without children at home, use our services to save time and energy to pick up a new hobby or go bar hopping! Those with families at home, our services are perfect to help you keep up with your friends without children! Keep your home looking amazing and bring in some friends and family for the beautiful tourist attractions and great weather! Amaze them with the sparkling clear windows, patios that look brand new, and maybe they'll think you paid a fortune to remodel your home! Go shopping, go to a night club, go to a casino, play a round of golf, or just lounge around at home bringing in the New Year! Whatever you do in Scottsdale this week, let us help make it less stressful and much, much cleaner!
Just call Arizona Window Washers for your all over home cleaning services needs.
Related Topics about Home Cleaning:
Best Home Cleaning Companies
Molly Maids Home Cleaning Service Prices
Best Home Cleaning Services
Merry Maids Home Cleaning Prices
House Clean
Angie's List Home Cleaning Services
The Maids
Molly Maids Home Cleaning Services