Gutter Cleaning

The exact time of year to clean your gutters may vary depending on the amount of surrounding foliage and what type of guards or screens you may have installed.
Homes with tall trees or near homes or other properties with plants (especially in windier areas) are very susceptible to excessive gutter clutter. While the Phoenix area isn't prone to high levels of rain or freezing temperatures, there is still a risk of wet plant matter and dust weighing down on the gutters and causing breakage and slipping. Rare times of below-freezing temperatures can also cause damage if there is any dampness in the gutters. Frozen water expands, which can cause cracks in seams or expand existing cracks in the gutters or cause damage to the roof itself, leading to roof leaks as well as a need to replace the gutters.
Those gutter systems with screens or guards still need regular cleaning because despite how helpful those systems are, certain debris can still get through or clog the guards and screens.
In the event a gutter gets clogged, the next rain you get could lead to runoff which can damage paint or get into the foundation due to the water pooling.
If your gutters are clogged or you have gutters in need of repair, you may notice overflowing water during the next rain session. While this doesn't look dangerous, it's likely to cause issues. While this area doesn't get a lot of rain, if it remains cool for a day or two after a heavy rain, the pooled water will continue to wreak havoc until it evaporates—meaning the next rain will bring deeper damage.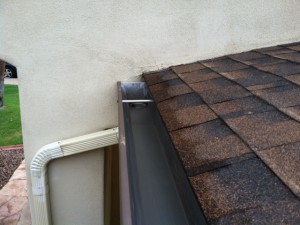 Even if you don't have plants near you (or you and your neighbors do not have trees) it's wise to clean your gutters once or twice a year. Our desert climate doesn't mean winds can't pick up various plant and dirt debris and carry it right into your gutters. Many plants can thrive in this area, so don't be afraid of trees and don't trick yourself into thinking your gutters are fine for another six months.
No one likes this task so hire Arizona Window Washers to clean them out for you and if you start with two sessions per year and we realize you're not accumulating enough debris to be problematic, we can adjust the schedule to help save you money!
We'll clean your gutters and we can wash the windows which may have been affected by the runoff and we can power wash the sides of your home and inspect for damage caused by clogged gutters. We can even wash your roof and check for damaged spots to prevent you from having a disastrous surprise next time it rains. Arizona Window Washers will help keep your home clean and therefore safer year round! Get a head start on Spring Cleaning this year and have your home look years newer before the spring season even starts.
Just call Arizona Window Washers for all your window cleaning and gutter cleaning services needs.
Related Topics about Gutter Cleaning:
Cleaning Gutters Cost
House Gutter Cleaning Service
Gutters and Downspouts Cleaning
Gutter Cleaning and Repairs
Aluminum Gutter Cleaning and Repair
Gutter Repair Service
Local Gutter Cleaning Services