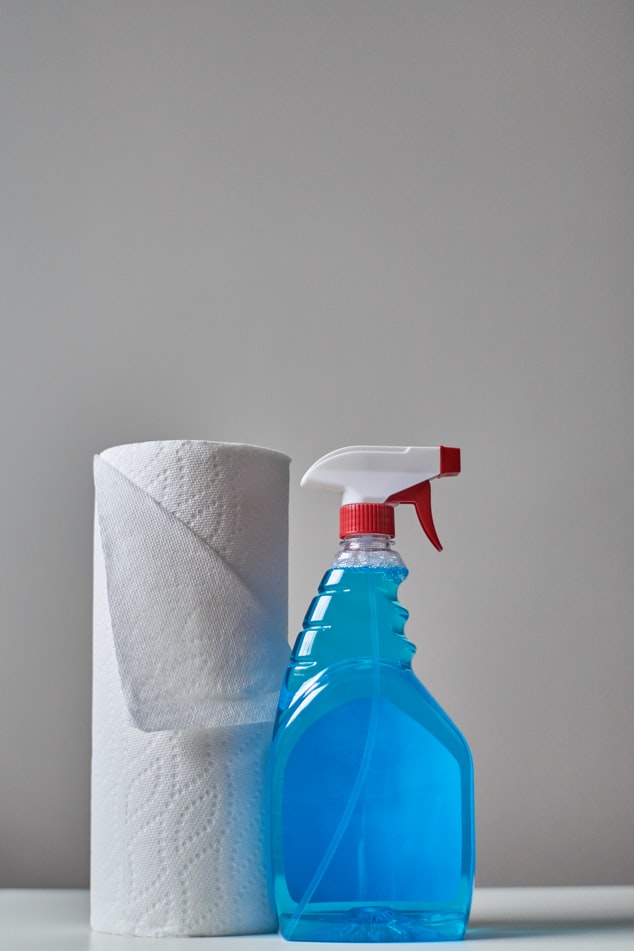 Having clean and sparkling windows not only enhances the overall aesthetics of your home but also offers several practical benefits. From letting in more natural light to improving air quality, clean windows can make a significant difference.
In this blog post, we'll delve into the world of DIY window cleaning and explore the numerous advantages it brings. We'll cover various homemade cleaning solutions, effective tools and techniques, tips for different window types, maintenance advice, eco-conscious alternatives, and troubleshooting common issues.
Preparing for Window Cleaning
Before we dive into the actual cleaning process, let's talk about preparing for the task at hand. Safety should always be your top priority when cleaning windows, especially if you have to deal with high or hard-to-reach areas. Here's how you can get ready:
Safety First: Necessary Precautions
Always work on a sturdy and stable surface when cleaning windows, especially if using a ladder.
Use appropriate safety gear, such as gloves and protective eyewear, to avoid accidents.
If you're working at heights, have someone spot you or consider using safety harnesses.
Avoid cleaning windows on windy or rainy days to prevent accidents and streaks.
Assembling the Cleaning Supplies
Now that you've taken safety measures into account, it's time to gather your cleaning supplies. For an eco-friendly and effective window cleaning experience, you'll need the following:
Eco-friendly Cleaning Solutions: Opt for natural ingredients like vinegar, lemon juice, and rubbing alcohol. They are not only effective but also safe for the environment.
Essential Tools and Equipment: A bucket, squeegee, microfiber cloths, and a scrubber will be your go-to tools for achieving spotless windows.
Microfiber Cloths and Squeegees: These are essential for streak-free cleaning and preventing lint or debris from being left behind.
Homemade Window Cleaning Solutions
Say goodbye to chemical-laden commercial cleaners and embrace the power of DIY window cleaning solutions. These homemade mixtures are just as effective and much gentler on your windows and the environment.
Vinegar and Water Mixture
Recipe and Proportions: Mix equal parts of distilled white vinegar and water in a spray bottle.
Advantages and Limitations: Vinegar is excellent for removing grime, water spots, and mineral deposits. However, avoid using it on marble or natural stone surfaces, as the acid can cause damage.
Lemon Juice and Baking Soda Solution
Creating the Cleaning Solution: Mix one tablespoon of lemon juice with one teaspoon of baking soda and one cup of water.
Best Uses for this Mixture: This solution works wonders on tough stains and greasy residue, leaving your windows fresh and lemony!
DIY Rubbing Alcohol Cleaner
Making the Rubbing Alcohol Solution: Mix one part rubbing alcohol with one part water in a spray bottle.
Ideal Situations for its Application: Rubbing alcohol is excellent for cutting through greasy films and fingerprints.
Simple Soap Solution
Using Mild Dish Soap for Cleaning: Add a few drops of mild dish soap to warm water in a bucket.
Precautions and Effectiveness: This solution is safe for most window types, but avoid using it on tinted windows, as harsh soaps can damage the tint.
Window Cleaning Tools and Techniques
Now that you have your cleaning solutions ready, it's time to master the art of window cleaning using the right tools and techniques.
Mastering the Squeegee Technique
Choosing the Right Squeegee: Opt for a high-quality squeegee with a rubber blade for streak-free results.
Step-by-Step Guide to Effective Squeegee Cleaning: Start at the top corner of the window and work your way down in a reverse-S pattern, wiping the squeegee blade after each stroke.
Ladder Safety and Window Reach
Safe Practices when using a Ladder: Always have someone stabilize the ladder and ensure it's on a level surface. Avoid overreaching and maintain three points of contact with the ladder.
Alternative Tools for High Windows: Consider using extension poles or window cleaning kits designed for reaching high windows safely.
Dealing with Stubborn Stains and Grease
Targeted Cleaning for Tough Stains: For persistent stains, use a soft-bristled brush or toothbrush to gently scrub the area before applying your chosen cleaning solution.
Special Tips for Greasy Windows: Applying rubbing alcohol or the lemon juice and baking soda mixture can effectively cut through grease and leave your windows shining.
Tips for Cleaning Different Types of Windows
Not all windows are the same, so it's essential to adjust your cleaning approach based on their type and size.
Cleaning Large Windows or Glass Doors
Start by cleaning the top portion of the window and work your way down to prevent streaks.
Consider using a larger squeegee or an extension pole to cover more surface area efficiently.
Washing Small Pane Windows
Use a smaller squeegee or a handheld scrubber to reach into the corners of individual panes.
Be patient and take your time to ensure all the panes are thoroughly cleaned.
Tackling Tilt-In Windows
Tilt-in windows offer easier access to both sides of the glass, making cleaning a breeze.
Use your preferred cleaning solution and squeegee for optimal results.
Cleaning Exterior Windows Safely
When cleaning exterior windows from the outside, ensure you have a safe and stable platform.
Use extension poles or long-handled squeegees to clean windows that are out of arm's reach.
Maintenance Tips for Sparkling Windows
Now that your windows are sparkling clean, let's talk about how to keep them that way for longer.
Regular Cleaning Schedule
Establish a routine for window cleaning, ideally twice a year, to maintain their clarity and cleanliness.
Note that the frequency may vary based on your location and weather conditions.
Keeping Dust and Dirt at Bay
Regularly dust window sills and frames to prevent dirt buildup and minimize the amount of grime that accumulates on the glass.
Keep surrounding plants and trees trimmed to reduce the number of leaves and debris on the windows.
Avoiding Common Window Cleaning Mistakes
Don't clean windows under direct sunlight, as the cleaning solution can dry too quickly and cause streaks.
Avoid using abrasive materials that can scratch the glass, and always use lint-free cloths.
Green Alternatives for Eco-conscious Cleaners
If you're an eco-conscious cleaner, you'll love these natural alternatives that are kind to both your windows and the environment.
Natural Cleaning Agents and their Benefits
Explore the versatility of ingredients like vinegar, baking soda, lemon juice, and rubbing alcohol for effective and green cleaning.
These natural agents are readily available, budget-friendly, and biodegradable.
Environmentally Friendly Cleaning Tools
Look for eco-friendly squeegees made from sustainable materials.
Opt for microfiber cloths made from recycled fibers to reduce waste.
Troubleshooting Common Window Cleaning Issues
Even with the best efforts, window cleaning can sometimes pose challenges. Here are some solutions to common problems.
Streak-Free Windows: How to Achieve Them
Make sure your squeegee blade is clean and free of any nicks or tears that could cause streaks.
Buff the glass with a microfiber cloth after squeegeeing for a streak-free finish.
Dealing with Hard Water Spots
Hard water spots can be stubborn, but white vinegar is an excellent solution for breaking them down.
Spray the affected areas with a vinegar-water mixture and let it sit for a few minutes before wiping it away.
Avoiding Window Damage
Avoid using sharp or abrasive tools that can scratch the glass.
Be cautious with commercial cleaners that may contain harsh chemicals.
Congratulations! You've now mastered the art of DIY window cleaning with our comprehensive guide to window cleaning hacks. With the right cleaning solutions, tools, and techniques, you can achieve sparkling clean windows that add beauty and brightness to your home.
Remember, maintaining clean windows is not only aesthetically pleasing but also crucial for letting in natural light and enjoying a healthy living environment.
So, go ahead and give these hacks a try! Your windows will thank you for the extra love and care.
And for our readers in Arizona, if you prefer leaving the window cleaning to the professionals, why not give us a shout? Visit our homepage to learn more about our top-notch window cleaning services. Our team of experts is just a call away to make your windows shine like never before!