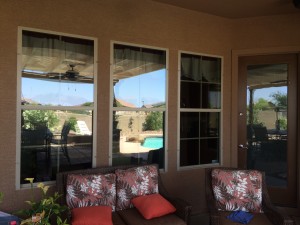 No one said Valentine's Day is only for couples! It's the perfect time of year for us to show everyone we care about how much we love and appreciate them. Yes, you can buy your mom a card and send your grandmother flowers, but why not give them a gift they can continue to appreciate and that shows how much you care about their health?
Chocolate is great, flowers are beautiful, cards are touching, and jewelry is standard fare for Valentine's Day gifts, but think outside the box and give a lower pressure gift this year (that way, if the gift giving isn't reciprocated there's no awkwardness).
Here at Arizona Window Washers we've stressed how our services can improve health as well as reduce the risk of cleaning-related-injuries. We don't need Grandma climbing on a ladder to clean the gutter, so if you don't want to volunteer your services, contact us to pre-pay for services straight up offer to pay for a power washing session for your Grandparents.
Pay back your mother for all of the years of fingerprints and grimy smudges on her Windex-and-newspaper-cleaned windows by paying for a professional cleaning. With the time she saves on window cleaning over the next 6 months means she might feel inclined to bake your favorite cookies or take you out to lunch.
Help out your dad and make up for the years of throwing mud around the back yard with our power washing for patios, limestone, and more. Don't let him lift a finger to clean up the mess from his grandkids tracking dirt around his porch.
Get together with the other grandchildren and pay for multiple house washing and window cleaning services for your grandparents to thank them for taking your side, calming your mother down, and bringing the best gifts at Christmas.

Even if you are in a relationship, you can surprise your partner with a clean home for them to return to. Husbands will love not being asked to rent another power washer and they'll wish they thought of hiring us to clean out gutters sooner—and wives and girlfriends will be glad they don't need to worry about their men on ladders cleaning gutters and roof shingles. It may not be a romantic gift, but it sure is nice to have such tasks done for us by professionals—even if this is the only time you ever hire us (but trust us, you'll come back when you see our results). Tread lightly with this idea, some women will treat this like receiving a vacuum for Valentine's Day—so keep that chocolate handy to avoid months of quiet anger.
Check out our Specials page for deals to help maximize your clean for your buck!
Related Topics about Window Cleaning:
Window Cleaning Service
Window Glass Cleaning Tips
Window Washers
Residential Window Washers
Window Cleaning Equipment
Window Washing Companies