Whether you're a homeowner, home renter, or business owner you may discover a time when hiring a power washing business will be beneficial. You can rent bulky machines or purchase one but maintaining a machine can be time-consuming and costly. And who wants to find a place to store one of those year-round? And as far as renting goes, it's not going to save you time and money if you don't know how to operate it and once you factor in supplies and hourly or daily fees. Today we're going to talk about why you should hire someone to power wash your walls, patios, decks, and more.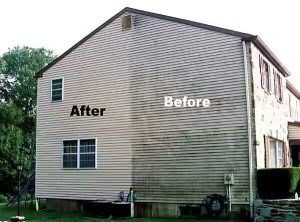 Reasons to hire a Power Washing service today
1. There are professionals for a reason!
People do this for a living and have had extensive training for this type of work. They know their equipment and can handle it without damage to you, themselves, your property, or the machines.
2. Support local businesses!
With big-box stores having rental equipment available it may be tempting to "save" some money by doing it yourself. However, Arizona Window Washers offers great prices and you're helping keep food on a family's plates. We're people, too, and we work hard to bring you great services at amazing prices.
3. It's not that expensive!
Renting or buying a machine may seem like a cheap alternative to hiring professionals once or twice a year, but how often would you actually use the machine to where it would cost you less in the long run? Maintenance, supplies, storage space, and replacing parts end up costing you time and money you didn't have to spend. We offer special deals all the time and we'll be done in a fraction of the time it would take you to perform the task.
4. Safety matters!
These machines are very powerful and without proper knowledge or training, it's not hard to damage nearby plants or hurt yourself operating the machine. Keep you and your home safe by using professional services.
5. Satisfaction Guaranteed!
When you pay for our power washing services we guarantee you'll love the results. We know the tricks, we know what works with specific surfaces or grime levels and types. You don't have a guarantee when you power-wash on your own time and dime.
6. Save yourself time and energy!
Power washing can be exhausting work. So use the time you have to water your plants, read a book, or prepare a meal. You won't need any recovery time watching our guys power wash your home.
7. Enjoy the clean!
Similar to the last point, not doing this on your own means you can appreciate the clean without being exhausted or frustrated at the time it took. Not having to lift a finger means you can enjoy the clean instead of criticizing yourself for missed spots or uneven cleaning (because our professionals don't make mistakes!)