When making a list of home duties to do during the weekends, many ignore window washing or leave it at the bottom of the list. They pay keen attention to other things and can even sideline window washing. This is because many consider it time-consuming, tedious, and yet insignificant. No matter how insignificant you perceive it to be, it is still an important job to be done in the house. 
However, Coach John Wooden said that it's the little details that are vital. Little things make big things happen. Window cleaning is perceived as a little thing, but yet it has enormous benefits for the well-being of home occupants.
You enjoy the benefits that come with clean windows when you thoroughly and properly wash them. To get it washed in a way that will let you sip every juice of benefit that comes with clean windows, you need to delegate the duty to professional window washers. That way, you won't have to go through the struggle of staying hours cleaning your window or the danger of falling from a ladder when cleaning. It's so relaxing to be rest assured of a work perfectly done with zero or little of your effort.
In this article, we will highlight various possible reasons why you should hire professional window washers to wash the window of your residential home here in Arizona.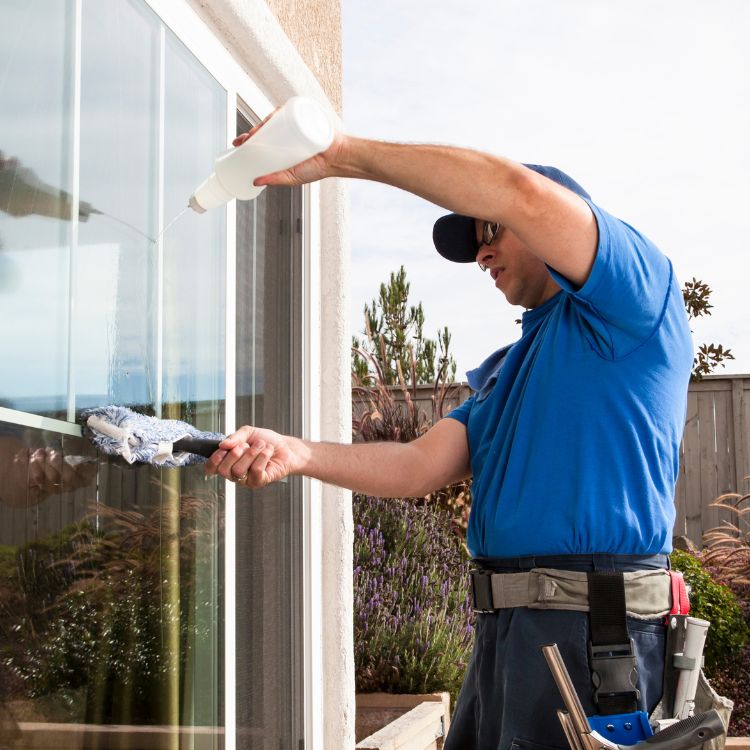 Let's get started!
1. They do a great work
Professional window washers execute window washing duties like they are specifically born to carry out the task. They know the technical know-how, the scientifically backed up methods that are the most effective, the shortest, and the safest method to clean windows. They are trained in the task and certified afterward. 
Professionals have the expertise, experience, needed tools, and safety equipment to swiftly carry out the task. With all these qualities, they do the work just as perfectly as it can ever be done. They do great work washing windows. Many window-washing companies here in Arizona also offer gutter cleaning after washing your window as a bonus service. And after having them visit your window, you wouldn't have to bother about window washing over a long time.
2. They save you a big deal of time
The amount of time window washers save you is one of the biggest benefits of hiring them. Also, window washing is normally seen as a tedious and time-consuming task. That's one of the reasons many homeowners shy away from it. Sometimes, you can end up taking a huge deal of time in washing the windows and it won't still come out clean. Bummer! Because of how time-consuming it can be to properly wash your windows, it might require you to kill your entire day to completely execute the task. So, it's usually a better option to outsource the task. And all you need to do is to pay service fees and use your time in handling other tasks at home.
3. It saves cost
The average earning rate in Arizona is $25 per hour. If you stay five hours washing your windows, that's $25 X 5 hours. Spending $125 plus your energy plus potential hazards in doing the job is a huge cost. Why not exempt your energy and still let your money work for you? Not as though window washers take lots of money to get the job done. Thanks to various competitors in the market, the price of window washing is quite affordable. Affordable price for such a huge task. That's a win.
3. Safety is assured
Everything about window washing seems to be a risk. From the danger of cracking the glass and getting a cut to the possibility of falling off from the ladder. Lots of risks involved in the task. The professional window washers are aware of that, and that's why they don't get involved in the task without putting on all necessary Personal Protection Equipment (PPE).
Also, window washers are properly trained on how to wash windows without being involved in possible accidents that can occur from the task. Good window washing companies make sure all their workers have their health insured should things go wrong. Make sure your window washing company is properly insured. A rightly insured window washing company won't just make sure their workers are safe, but will pay for all damages on your personal property should any happen.
4. They offer free gutter cleaning service
Gutter cleaning is another task that many homeowners also neglect. Although being neglected, it is still a very significant aspect of the house. If not given attention can lead to mold buildup, roof damage, paint wall damage, drive away destruction, and it can create a home for bugs, insects, and pests. All of these effects can cause home quality deterioration, as well.
The mold buildup can lead to a drop in the air quality. Unfortunately, home gutters are usually placed where you'll need a ladder to access. Cleaning it involves risks of falling from a ladder. It's still not an easy task, after all. Many window washing companies offer gutter cleaning service as an additional service after the usual window washing. And the best part of it is that it is free of charge.
Clean windows have their advantages beyond good looks. They sure look good. But apart from looking good, it has various benefits. They help in:
Exposing your room to natural light without obstruction.
Helps in improving indoor air quality as it prevents mold buildup.
Reduce heating cost.
Avoid sick building syndrome
Keeps the home occupant in good health.
And a lot more…
If you are interested in enjoying these benefits, then be ready to properly wash those windows. No one can perfectly do that for you if not professional window washers. Contact the professionals today. Here in Arizona, Arizona window washers have more than what it takes to safely, expertly, and quickly get your windows sparkling again. We are affordable, rightly insured, and our workers are courteous. Reach out to us today.